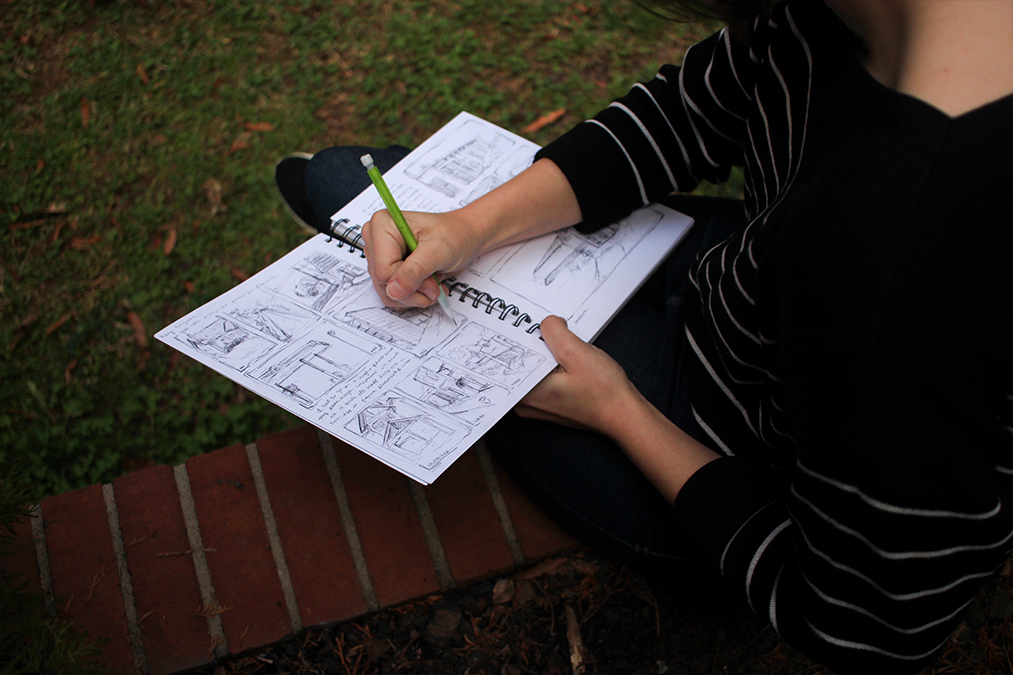 Written by Caleb Flachman
Photographed by Lindsay Higgins
Taylor has spread her laptop, sketchbooks, and watercolors across a drafting table in Rainey 160, the drawing studio where she spends much of her time. She holds a cup of coffee tightly between two hands, preparing for another late night. But she doesn't complain. "Drawing is fun," she says more than once."Most artists hate drawing people, but I love it."
She flips through sketchbooks filled with portraits and frame-by-frame studies of twirling figure skaters. She shows me sketches of buildings in Spartanburg and Anderson, places where she has lived. She has also created digital renderings of buildings of architectural and historic significance, such as the Cecil Hotel in Los Angeles. The colorful illustrations recount the disappearance of Elisa Lam, whose body was later found in the water tank on top of the building. Everything Taylor creates is meant to capture and communicate her interest in the personal and the public in a way that others can understand. "I really love sharing weird experiences with others," she says. "Hopefully my art can give those people those experiences."
She talks about her fascination with surreal and dreamlike experiences. "Basically to me it's those moments where you're in eerie spaces that have you holding your breath in anticipation for something that never really comes," she explains. "The spaces when you have some preconceived notion for what those spaces should be, but those notions don't quite match up. It's a very abstract feeling that I'm trying to express visually, which has been my biggest challenge."Recently, this attention to the liminal provided the groundwork for a series of mixed-media portraits. Digitally layered underneath changing shadow formations, the pieces are meant to demonstrate the subjective nature of individual perception.
Taylor grew up in Spartanburg, where she discovered an early interest in painting and drawing. She says neither of her parents is particularly artistic, but they enrolled her in art classes that helped foster her abilities: "My dad is really big on finding out what each of our gifts are, mine and my siblings, and pushing us towards that." Art, however, remained only a hobby until the latter part of her high school career. Taylor recalls having a sudden realization that art could be something more than a simple diversion. "I have this distinct memory of being on a trip with my church where we drove up to New York," she says. "Being stuck on a bus for hours on end spurred me to draw, and I started drawing portrait after portrait. I don't know why, but for some reason that was when it really clicked, and I began to start practicing and improving as much as I could."
Today, she focuses on illustration, a style that she attributes to the inspiring work of Alphonse Mucha, Agnes Cecile, and Thomke Meyer. She says breaking out of her comfort zone and redefining her work is something that she always strives for: "I like to say the one thing constant about myself is change – that's why I won't let myself get a tattoo, because I know I'll hate it in about a week."
Taylor closes her third sketchbook but apologizes for not having more to share. She seems not to recognize that she has shared her vision, given us access to dreams we never could have imagined without her.